Back To Blog
It's important to think hard before a new gate installation in order to get the best out of your investment. Of course, some accessories can be added later and some components must be selected with great attention in terms of their durability and resistance. When it comes to your brand new steel gate, the secret to enjoy its use is to ensure it is practical, it allows you to move in and out with ease, it's convenient and, above anything else, it is safe. It's no wonder that the right selection of residential gate openers along with their accessories should be one of your priorities. Though, apart from making sure the right entrapment sensing devices are integrated and the right material is chosen, you should give attention to small details that will make everyday use safer and more practical.
6 gate secrets for comfortable and safe use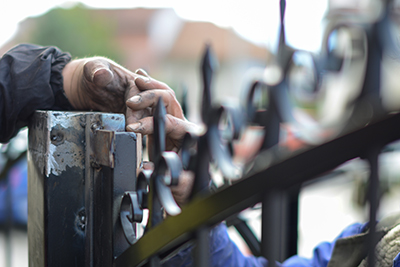 * Make sure the driveway gate track has end stops. This is your assurance that the gate will stop at the proper spot and won't come off the tracks. In a different case, it might break or inflict injuries to standing by people.
* Intercom installation will be extremely helpful for your security, especially if you cannot see the main entrance from your home. There are many variations among these systems and the best part is that you can see and talk with the visitors.
* Pedestrian doors will not only make your life easier when you are on foot but also enhance your safety. Don't forget that vehicular electric gates are not designed to control pedestrian traffic and after all, it's better to stay away from the lane of vehicles.
* It's smart to install speed bumps so that you will remember to slow down when you are in the driveway. This will protect your gate from potential damage and also kids and pets that might suddenly pop in front of your car.
* Access control systems must be installed at least ten feet away from the entrance. You must not have access to them by reaching out through your gate in order to avoid accidents.
* Make sure your opener includes a manual release method for opening the gate. This is important even if you have a battery for backup support during power failures. The gate must be easily open from both outside and inside.